It was quiet in the rec room during the first half of the Green Bay Packers game. The old women's "can't lose" attitude was a little shaky with their boys down 16 to 0. They all wanted to just give Russell a hug and tell him it was going to be OK

Some old women who threw up their hands in defeat were roundly booed and told to cut it out and keep cheering their boys on. One old man who was born in Wisconsin as a Packers fan came in for a while. He had to leave though when the Hawks started getting some momentum going and the old women screamed. Two other old men stuck it out and one even helped serve food. The perfect host.

The one old woman who was counting down how long it takes to make a TD for the Hawks to catch up was getting anxious. Most said to relax and remember when Russell threw TDs in the last few seconds to win games. Knowing it wasn't over, made the old women hope for a Russell, Marshawn or Kam miracle play.
They got to overtime after the Chris Matthews got the ball on an onside kick. Marshawn took it in for a TD to tie and it just got better from there.

In overtime Russell threw 3 perfect passes to move down the field. The last one found Jermaine Kearse in the end zone and the miracle win.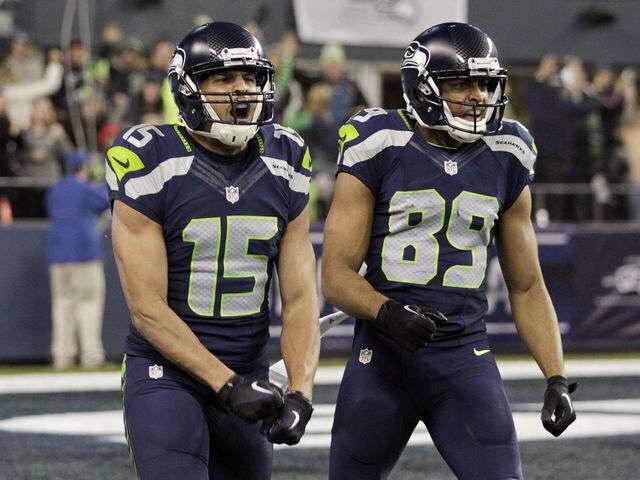 Some of the old women wept right along with Russell during his post-game interview. It has been a long season for them. But they saw how fun and how much it meant to show up, scream loud and long, and share this Seahawk team.

The Packers and Aaron Rodgers with Eddy Lacy played a remarkable and fierce game.

The old women were fearful their boys would not catch up. Every Hawk offensive play was stopped short. When Russell took it in while the Packers' defense was mobbing Marshawn on the other side of the goal, the old women were hopeful this game could be turned around. The tide did seem to turn when punter Jon Ryan faked the punt and and passed it to Garry Gilliam for a complete surprise TD. The old women just shrieked and laughed and loved the show.

Plans were being made for Super Bowl Game day. The old women and the one old man who stayed sorted out who was going to bring what food and maybe some spiked Hawaiian punch. A '12' banner and a beefcake picture of Russell on the bulletin board set the tone. The old man wasn't too pleased and said if he put a scantily clad female picture up there the old women would have a fit. One woman said, "Whatever."

The old women and their Hawks need the 2 week rest until the Superbowl. They hope all that sun and warmth in Arizona won't distract their boys.