None of it was easy to watch. Nothing came without struggle and stress. It was like watching a monkey order sushi.
But the Seattle Seahawks won and The Creepers went 4-0. Three of my teams did it with below average numbers from Russell Wilson. The other team did it with sub-superhuman performances from Peyton Manning and Demaryius Thomas.
(My son called him Delaryius. I told him it was Hilaryius.)
Never forget about the unusual rules. Bethanie's league (which features PP-Everything including kick return yardage AKA the league that made Jordan Todman the #3 overall RB in Week 4 thanks to 174 kick return yards) allows only 4 roster moves a week and has a bench of only 4 players. I'm a guy who habitually makes a bunch of moves early in the week. I had to use my last roster move to replace Paul Posluszny at IDP. I was forced to choose between Reggie Bush or Trent Richardson at RB2. One of those guys put on a uniform this week. Neither played.
Thanks to Antonio Brown, all was forgiven.
After 8 weeks, The Creepers are 5-3, 6-2, 5-2-1 and 7-1. My worst record is in my only free league.
So you should listen to at least a tiny bit of what I have to say.
Ten things about fantasy football and the ripples it causes:
#1 Time to Dump Percy Harvin?
Last week I declared that Week 8, 2014, would be the best game of the rest of Percy Harvin's career. 50 total yards on 7 touches? Yup, that could be it. The quarterback he left Russell Wilson for threw 3 picks in 8 passes in the first quarter and got yanked forever. Michael Vick is starting next week. The New York Jets are a train wreck that crashed into a dumpster fire.
Pick a team. Any team. Could Percy have gone to a worse team? You know I hate the Oakland Raiders, but even they have a good young quarterback and acknowledge that they're rebuilding. Rex Ryan thinks the Jets are good enough and finally realized
yesterday
he has no QB of the future.
This was the worst move possible for Percy. He'll realize that within days, pull a Randy Moss/Oakland Raiders and shut himself down for the rest of the season. He'll try to stay healthy, get cut and look for a new team next year.
Meanwhile, it was...
#2 The Best Move for the Seahawks
Being the defending champs predicted to repeat just didn't suit that team. They won the Super Bowl because no one thought they could and they went to work every day to prove everyone wrong.
After Gregg Easterbrook of Tuesday Morning Quarterback pointed out that a 3-3 team had a 1% chance of winning the Super Bowl, the Seahawks were again in familiar territory. When an underdog gets on top, it gets lost.
Last year began with a dirty 12-7 win in Carolina. Seattle spent the rest of the year scratching and clawing for respect. This week's 13-9 victory over the same team, also capped with a late Russell Wilson touchdown pass, should start another run for redemption.
Coming along with all the Harvin fallout is more blah-blah about locker room discord, including talk about Russell not being black enough, working too hard and being the coach's pet.
Anyone complaining about the franchise quarterback working too hard and being tight with the coach can go look for pirate treasure at the bottom of the Puget Sound. As for not being black enough? Sounds like the sort of stereotyping successful black men resent. I'm as white as a sack of flour, but that statement doesn't sound right.
My time in the unrewarding world of sports writing has taught me that writers need to write. Today and now. Their words, whether true or not, need to cause sparks and flames to be valuable. Otherwise they're just more bubbles in the waterfall that is the internet.
It was true about me and it's true about most of them: they don't know anything except what bounces around the web. They seize on a quote, a stat or an inference and try to make it go viral before anyone else does.
I tried it. Can you believe I wasted your time with this? But I had to. Forced to write every day, I tried to be TMZ Jr.
Good win, Seattle. I promise to ignore as much digital pulp as I can.
#3 Running Backs You Should Be Watching I try to avoid New Orleans Saints running backs. Drew Brees has that annoying habit of being very good at passing and spreading the ball all over. You never know who's getting fed that day. But now because of injuries, Mark Ingram is getting his chances. He exploded on Green Bay for 172 yards. The Saints get the Panthers thursday night. With a short turn around, I expect Ingram to remain hot and New Orleans to stay with him.
I try to avoid New England backs for nearly the same reasons. Bill Belichick is tough to predict. Jonas Gray dominated the run game, but Shane Vereen is just as likely to get the ball next week against Denver. The Patriots will find themselves in a shootout and Tom Brady will be throwing rather than handing off. I'd hate to have to roll the dice on Gray or Vereen.
Lorenzo Taliaferro keeps getting the dirty work while Justin Forsett gets the flashy stuff. Bernard Pierce is getting spoonfuls of Alpo. Lorenzo is one injury away from bubbling to the top in Baltimore.
Theo Riddick, a converted wide receiver, did his best Reggie Bush impression while Reggie was out. He'll continue that role if Bush does not mend soon. The Lions have a bye this week, so Week 10 may not be Riddick's, but keep an eye on him.
#4 My Fantasy Fantasy League
I dream about a fantasy league of the absurd. One in which you attempt to predict the most ridiculous and undesirable things.
You would have a penalty team on your squad that would earn you points based on number of penalties allotted, penalty yardage and points called back due to penalty.
You wouldn't select a team defense, but an offense. Your defense would be whoever was playing against your offense. I'm taking the Raiders in the dynasty version.
You'd get points every time your player appeared on "C'mon, Man" or "Not Top Ten".
You'd get points for dropped passes and interceptions.
Wardrobe malfunctions, definitely.
Injuring yourself while celebrating would earn huge bonuses.
Of course you'd have a punter.
How should we award points to your cheerleading squad?
But who would host such a league? I'm not flashing back to the early days of fantasy sports and doing all the math with a newspaper.
What other absurdist categories could we use?
#5 Defenses I Like
Thanks, Miami, for mauling the Jaguars in all 4 of my leagues. Did anyone notice me looking smart for a minute? But it's time to move over, Dolphins. You get San Diego next. Welcome to Dropsville.
The answer to the obvious next question is Cincinnati. I'm picking them up everywhere I can. The Bengals play better at home and should mow Jacksonville down.
If Kansas City is free in your league, grab them because they get the Jets. At least the Jags are trying.
Cleveland versus Tampa Bay is worth a shot.
Not many other juicy match-ups this week. Many of the lousier teams are playing defenses already largely owned. Seattle at Oakland? Tasty.
#6 Wide Receivers You Should Be Watching
Martavis Bryant may have been a lucky recipient of a freak Ben Roethlisberger game, but the rookie is working his way more and more into the game plan. The Steelers even have a package featuring him in the backfield. They want to get him the ball.
Donte Moncrief made 7 grabs for 113 and a score playing catch-up with the Steelers. Andrew Luck and Eli Manning could get slingy. With Reggie Wayne less than 100%, Donte could remain in the sun.
Andrew Hawkins just keeps catching passes. 36 for 470 but only one score. He's a small slot guy at 5'7". I have a blind spot for the Browns. I haven't wanted to believe in them all year. But Hawkins is staying in the picture.
Odell Beckham gets to start opposite Rueben Randle. Fresh off the bye, he could make an impact against Indianapolis.
#7 Players I'm Not Getting Back Yet
Rashad Jennings is still recovering from his knee issue. After the bye, he still may not play against the Colts. That leaves rookie Andre Williams in a choice role. He'll be riding with me this week.
Montee Ball may be back for Week 9, but Ronnie Hillman's success has hurt Ball. His hands and breakaway speed have fit perfectly into Manning's attack. Ball may be relegated to goal-line vulture when he returns.
The Lions have been cautious with Calvin Johnson. After the bye, we should see caution get flushed and Megatron get back to business. I think Golden Tate continues to thrive.
#8 Victor Sinclair Comes To Visit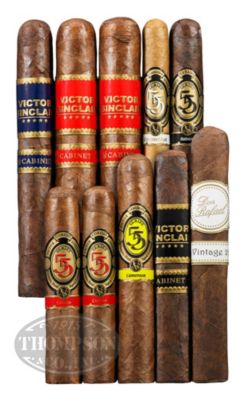 The big fat ones with the red band.
Fed up with my primitive sponge humidifier, I finally decided to go with a Xikar Gel Jar. In order to qualify for a $5 discount, I needed to spend $25. After much hunting and searching, I selected a Victor Sinclar 10 cigar sampler.
They were less than $2 a pop, delivered. I'm intrigued. An array of oscuro, maduro and corojo sticks with one Connecticut lancero. Mostly my type with some variety thrown in.
The first to ignite was the Cabinet 99 Red. It's a chubby boy, at 5.7" and over 60 ring gauge. Not the deep earthy style that is my true love, but leathery and rich with a certain tea-leaf flavor without being too herbal.
I liked it, but it didn't burn great. I had to touch it with the flame a few times to keep it even. Eventually it took on those stagnant flavors of a cigar not burning evenly and I chucked it before it reached my knuckles. Now, I did smoke it right out of the package. Cigars always burn and taste better after some time in the box.
Fortunately, 2 came in the sampler. I'll let it sit for a couple months and revisit.
#9 86 the Rub Gets its First International Order
My sister-in-law and her husband (aka Shark as Muffie and Vinor Bastards of the East Crown league) just had a little daughter in Prague. We sent them a package of gifts. One request they had? Some of my barbecue rub.
I buzzed them up a batch and sealed it in a zip-loc bag. I wonder what the dogs at the airport thought about that. Get a deep whiff of that chili powder, Fido. Maybe smugglers are getting creative, mixing sea salt and ginger with their drugs.
I use the stuff for everything. I have photos ready to post a recipe for Three Shadows Chicken Thighs. I just haven't got around to it. Then a Writer Access client was looking for easy football snack recipes. I'm going to give them a version of that recipe. I just need a football name and theme other than Three Shadows.
If you're fast, you can help. I'm writing it up tonight. Give me a title. Touchdown Chicken Thighs? Too easy. Help me out.
#10 Still Picking on Percy
Wanna be a Jet:
I can catch Geno passes
For fifteen minutes.
Good luck and happy creepings.
Honorable mentions for the featured sushi monkey image: