Monday the 3rd of February will be a big day here at the 86 the Poet blog. Even bigger if the Seahawks win, but I'll let them settle that on the field. This site will become dedicated to five things I love: my wife's art, my writing, food, football and cigars. I will do my best to post every day. For the first week, I'm doing a lot of content.
One of my regular features will be tipping you off to good cigar deals. This is how I shop. I keep an eye on some trusted sites and wait for a great price on cigars I know and trust. If you're patient, you'll find stuff at 60% off or more. I'm focussing on oscuro and maduro (dark) cigars from trusted brands I can get for under $3 each. These deals often sell out fast, so I urge you to strike like a mongoose. Faster than a cobra, that is.
Here are a few picks for today:
FC Premium Cigar Sampler #13 + 30 Cigar Humidor. $34.21 from Cigars International.
I like everything La Gloria Cubana does. I know those Wavells are good, although I like the darker ones even better. I trust Romeo y Julieta to make nice product, so I bet those Bullies won't disappoint. The value of the deal depends on whether you need the humidor. It's a bit small for my liking. Mine's a 100 count. I have an article on picking the right humidor coming next week.
Bottom line: not counting the humidor, the cigars are $3.42 each plus shipping. If you or a buddy wants a small humidor, the cigars are a steal. Up to you.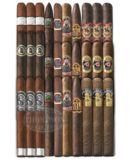 I'll tell you the truth: I've smoked none of these and nothing from these brands. But search for "Thompson cigar coupon" and you'll get 10% off and free shipping, bringing you down to $1.44 a pop. You can bet most of these are worth more than that. The others you can give away late at night to a drunk buddy who'll think they're awesome. Yeah, this picture's fuzzy, but they all look like my kind of inky stinky.
Not always do we have an hour and a half to lounge with a Churchill. And these days it's too cold to sit outside forever. It's nice to have some short attention span smokes in your collection. I've never had a Domaine, but every AVO I've ever smoked was full, smooth and expertly built. These got a 91 rating and a spot on the Top 50 list. For under $20, I'll tuck a tin of these in my coat pocket.