Is it metaphorical that all my Creepers teams feel just like the Seattle Seahawks right now? All four squads are performing just well enough to stay above .500 and remain in the playoff picture, but if we don't do something serious we'll be watching the post-season.
A brutal weekend. My only win was a whimpering 79-74 in Andy's league. Fortunately, that's my biggest money league and the one in which I most needed a win. I snuck back into 4th place, at least.
In Nate's league, I ran into the two-bladed buzz saw of LeVeon Bell and Jamaal Charles. 108 isn't a bad score, unless the other guy has 161.
In all 4 leagues, Brandon McManus kicked me one whole extra point. Is that what you'd expect from Denver's offense? More on that later.
So if you're on the ropes and in the same boat as me, to mix boxing and sailing metaphors, then it's time to get going. Make bold moves. Be fearless. If you're going down the drain, make sure you splash the whole way.
And on top of that, don't do anything stupid you'll regret all winter, spring and summer. You probably can't take both pieces of advice at the same time, but that's how guys like me ensure they're not completely wrong all the time.
It's time to confuse you more specifically and less generally. Here come ten things about and not about fantasy football:
#1 Will the Seattle Seahawks Evolve Already?
Last year they got away with playing base defense, running predictably and passing conservatively. This year, they're taking fewer risks and not surprising anyone. The league had the whole off-season to figure them out and it did.
I just said something about going down the drain and splashing for dear life the whole way. Seattle is circling quietly with the occasional mumble about Percy or Marshawn or injuries.
What it really looks like to me? Seattle is a group of Neanderthals and the rest of the league are Homo Sapiens. (Or to paraphrase Beck: in a league of chimpanzees, they are monkeys.) While the Seahawks are rubbing the same poop on the walls of their cave and wondering why it's not a different color, other teams are building fires and chipping stones into spearheads.
The Sea-Pterodactyls need to evolve or die. To be more literal and less figurative, their defense needs to be more like Tennessee's. No more expecting four linemen to pressure the quarterback. In a valiant losing effort, the Titans were sending crazy stuff at Ben Roethlisberger.
One play they'd rush seven and the next they'd cover with eight. Blitzes would come from all angles or they wouldn't. For most of the game, the Steelers offense was off balance. And they were doing it with a no-name defensive backfield.
Would it kill the Seahawks to trust the Legion of Boom to cover some guys for four seconds while some linebackers blitz? Or is Ray Horton so much smarter than Dan Quinn?
Russell Wilson is ranked #26 among NFL quarterbacks in air yards per attempt. That is: how far his passes travel before reaching the intended target. He's not throwing the ball downfield. Defenses know it. They're crowding the line to prevent yards after catch and stop the run.
Last year he ranked #3.
Speedy rookie Paul Richardson's longest catch of the year is 11 yards.
The playoffs start now. The 7-3 Eagles and Cowboys plus the 6-4 49ers stand between us and a wildcard spot. Losing is not an option. Beating the Cardinals twice could actually win us the division. We know home-field advantage is yummy.
It can be done. The Seahawks just have to stop playing caveman ball.
#2 One Extra Point for Denver's Kicker?
The Rams might not like going to the playoffs any more, but they sure like to spoil it for other people. All of a sudden, the Broncos look like a wildcard team and the Chiefs look like division champs.
Denver is losing weapons everywhere and their offensive line looked shaky. They gave up 2 sacks and let Manning get pressured all day. He looks human when you get players in his face.
But he'll adapt. If Julius Thomas can't play, get yourself some Jacob Tamme. I also like Andre Caldwell and Cody Latimer if Emmanuel Sanders doesn't pass his concussion protocol.
But 1 point from McManus? I don't think much about kickers, but I figure the kicker for a potent offense should be a good call. If I was brilliant at this, I'd look for good offenses with bad red zone production against bend-but-don't-break defenses.
Montee Ball isn't healthy yet, so I've got to trust CJ Anderson to be the guy. But 9 carries for 29 yards? You don't like Denver backs just because they run. He also caught 8 for 86 and you know that's a lucky number.
No freaking out. Peyton without hideous pressure will make average receivers look good and make covered guys seem open.
Miami's coming to town and, although they have a good pass rush, things should be okay in the thin air for Denver.
#3 Defenses I Like
I like Miami, in general, but not against Denver.
I like Green Bay against anyone right now. Certainly Minnesota outdoors.
Buffalo against the Jets. Just picking on them.
Colts against the Jaguars and Cowboys against the Giants. Throw five picks, I'll pick on you next week.
Mostly obvious opponents, but that's the way I play it. It works at least half the time.
If you are feeling gutsy, roll with the Rams against the Chargers. They did it to Manning. They can do it to Rivers.
#4 What the Hell, Comcast?
I had the most curious experience watching the Bills versus Dolphins. As usual, I recorded it and started to watch about an hour late. I hate commercials and will only watch halftime if I feel like it.
The pre-game was normal but then the play-by-play was completely in Spanish. Not uncool. I was curious to hear what they translated and what they didn't. Team names they did not. No one called Miami "Los Delfines". I found it strange penalties like "holding" were not translated.
All in all, it was kind of neat. Often announcers get so full of blah-blah, I'd rather tune them out. Thursday night, that was easy.
Besides, exposing my bi-lingual kids to a third language can't be bad.
Then, part way through the second quarter, the sound stopped entirely. Halftime was silent. The occasional commercial would have sound, but the whole rest of the game was mute. Was it just my recording? Even tuning in after the game to NFL Network live, I found it silent.
I searched for "NFL network audio problems" and found forum discussions about past incidents but not this one.
I tweeted about it and so did My Gorgeous Illustrator. No one responded.
Was our household the only one infected? Was it a broadcast thing or a DVR thing? Did it happen to you?
If you don't tell me, I'll never know.
#5 Who's Not Suspended Anymore?
Aldon Smith is back, but I don't think that changes whether or not you play San Francisco's defense.
Josh Gordon will return next week against a very generous Atlanta defense. Provided he's been catching more than a buzz during his time off, he should step right back into form. He's on a better Browns team than he was last year when he led the league in receiving yards. Someone in your league probably had the patience to retain him. He's available in one of my leagues and I have a waiver claim to drop Steve Smith for him.
Speaking of Brown things, Isaiah Crowell and Terrance West are easier to play now that Ben Tate has as many jobs in the NFL as I do.
Adrian Peterson will not be back. He can't be reinstated any time before April 15. By that time, Minnesota will be spending its cap space on other people and is unlikely to re-sign him. So the off-season's hot topic will be: where will Peterson land? Someone will sign him if he has the brains to act remorseful and do what the league wants him to do.
Does your team want Adrian? How will your fans react?
#6 Just When I Said There Were Never Trades...
...I pulled off a trade. Several days back someone in Nate's league offered me 3 players for Alshon Jefferey and Denard Robinson. Not wanting to dilute my starting lineup, I countered with his Antonio Brown for my Alshon and Denard.
He accepted on the day of the trade deadline, but the trade won't go through until this week because I had Alshon in my lineup.
Let's see how it works out. Robinson was on a bye but Jefferey outscored Brown 20.5 to 15.1 this week. I still lost bad.
My one miscalculation: Brown's on a bye next week. In this league, playoffs are 3 weeks long and start Week 14. I'm in, but for one of the last 2 weeks I'm missing a stud receiver. And for both, I'm missing my handy Auto-Flex.
If I don't miss the playoffs because of this, it's a good trade.
#7 Rat-a-tattoo My Ass
I got it done. My 86 the Poet tattoo. I had to earn it first.
I had always wanted a tattoo of the title of the first book I ever published. I hadn't anticipated the ease of ebook publishing. I have not earned enough money in a few years on ebooks to afford a drop of ink.
So I changed my plan. I had to earn enough money with my pen name to justify tattooing my logo on myself. A month before my 40th birthday, I started working 4 rather than 5 days a week at the restaurant and freelancing part time.
That justified it, so I went to Anchored Art in Spokane and had it done. Very clean and professional, by my rookie standards. They were selected best local tattoo shop by the local voters, so I did not look much further. I'm pleased with the work.
If you're in Spokane and need one done, look up Billyjack.
By the way, taking a selfie of one spot on your arm is hard. 20+ takes later...
#8 Don Rafael Vintage 2004 6" x 54 Box Press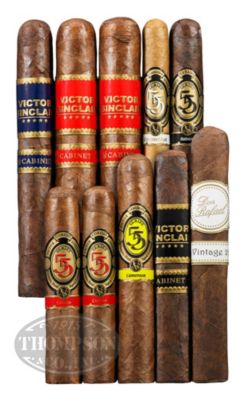 Bottom Right with the White Band
Another item from the Victor Sinclair sampler I grabbed a few weeks ago. For $17.95, I'm about to say
those 10 smokes
were a great deal. Thanks, Thompson.
I'm liking the wide gauge box presses. A good solid feel with an easy draw. This was the perfect mellow maduro: rich and earthy without any edges. Smoked smooth from start to finish. And the ash?
I'm not a long-butt guy. I don't smoke 'em vertical hoping to create the longest ash I can. I will tap it after a while to make sure the ash doesn't fall in my drink or my lap.
While I believe a good cigar should grow a good firm ash that doesn't want to drop, it's not the only measuring stick. But as a general rule, I hope to only ash a cigar twice before stubbing it. Cheap cigars will shed ash like your dog in the summer.
But this Don Rafael? That ash went for days. I didn't have a tape measure or a camera with me as I sat by my fire pit. The cigar at one point was 3/4 ash and 1/4 cigar. Only about an inch of cigar was left when it finally fell.
The ash is still sitting on the edge of my fire pit a few days later.
That's a solid build, my friends, with a great flavor to match. I'll buy them again.
#9 My Kids are More Awesome than Yours
I could brag about my kids for pages, but that's not what this column's for. What is it for? You tell me.
But I will brag a bit.
My 5 year old has share day (what we used to call Show and Tell) at his preschool every week. He decided to bring his sawfish. He has to supply 3 clues and his classmates guess what he brought. I was wracking my brain that morning for the technical term for the protuberance on the upper lip of swordfish, paddlefish, sawfish and the like. I asked my son.
"Rostrum," he said. "It uses its rostrum to catch prey."
Are you smarter than a 5 year old?
My toddler, although he won't be 3 until March, has already been invited to join the 3 to 5 year old gymnastics class. He has good balance and strength for a kid that age and never runs around like the other rascals. He doesn't talk to his coach, but he does listen and follow.
If a slobbering "pbpbpbpblt" is a word, then my baby just said her first word. She says it all the time.
#10 Ink for my Pen Arm
Stamped into my skin
So I don't forget: I am
Poet and temple.
Good luck and happy creepings.