But now the two conference champs must survive a harrowing bye week that no one enjoys...
The Simpsons, Episode 12, Season 10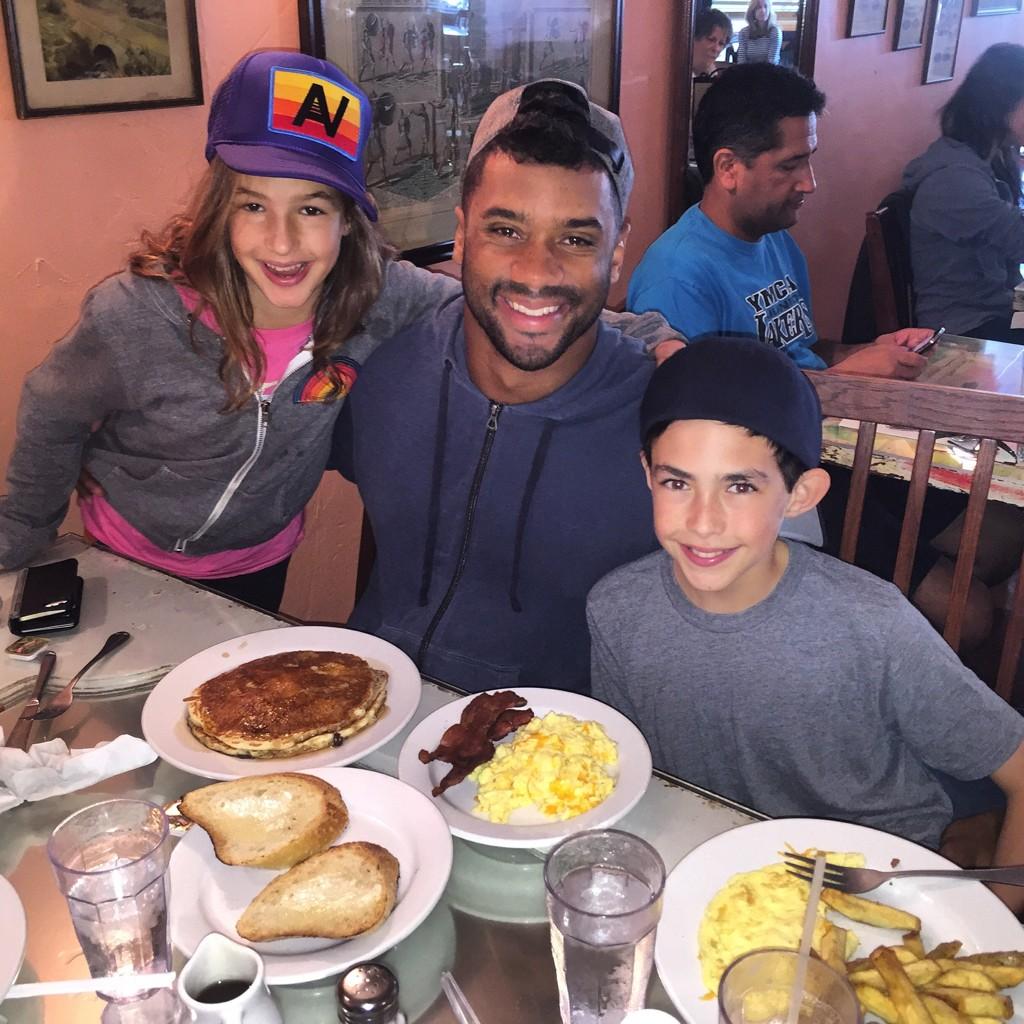 Well, I survived it, but it certainly was harrowing. I had between one and five starters out on each team. Nate's League where I was only missing Russell Wilson? I won. The others I lost, by margins of 1.26, 4 and fifty-something. My wife did the pummeling in the East Crown league.
The bright side? The worst of the byes should be over, except for in Nate's. My starting quarterbacks have had their week off. I'm 3-1 three times with a 2-1-1. It's a long year.
And Kathe Frahm is on a bye, also. She only writes after the Seahawks play. So if you've been enjoying her "Seahawks and Old Women" segments, track her down at The Penalty Flag and read some classics.
Once again, ten more things that interest me, excite me or befuddle me about fantasy football and the rest of the world:
1 - Unpainful Byes this Week: Miami and Oakland
We're not missing much with the Dolphins and Raiders taking a week off. I do appreciate Ryan Tannehill stepping up for my only winning team and posting 278 yards for 2 scores and 1 pick. He'll be a good bye week fill in next week. Keep an eye out. Keep an eye forward, rather and don't realize your bye needs on Tuesday.
Lamar Miller did score twice and total 67 combined yards on 14 touches. With Knowshon Moreno out, he's worth a start against the right team. Mike Wallace is still too streaky for my tastes, but if you got to...
And the Raiders are being the Raiders. 0-4 and just fired another coach. I can't think of a reason to own any one of them. My only question is: who's playing them? Week 6: San Diego. There's your defense already.
2 - Speaking of Defense
I like San Diego this week against the New York Jets. Sometimes Geno Smith shows some great flashes. He does have 5 fourth quarter comebacks in his career. But he always turns the ball over. He will again this week and that's central to fantasy yumminess.
I trusted Pittsburgh last week and got burned. My two close losses would not have been if Tampa just had the decency to stay terrible. But no, they had to stand up and play like professionals. Annoying. Yet I trust the Steelers again this week against the Jaguars. Blake Bortles threw 2 picks and 1 score for 253 yards last week. He needs to prove something before I choose not to pick on him. He hasn't much talent around him.
I choose not to pick on Teddy Bridgewater, however. He has more offensive talent and put in a very gutsy comeback drive against Atlanta. He did hurt his ankle but I think he'll be okay. Watch for it, though. If he can't play on Thursday, I'm all for Green Bay's defense. Otherwise, the Vikings can run it I think Bridgewater gets Cordarrelle Patterson more involved.
Philadelphia keeps getting big defensive and special teams plays. Touchdowns that way are fickle, but I don't believe Saint Louis will do much on offense.
Other than that, I don't see any obvious stinkers playing available defenses. Play your hunches and good luck.
3 - Arrowhead gets is Record Back
Seattle's CenturyLink field just had its title belt taken back by Kansas City fans. The old 137.6 decibel mark was crushed by a 142.2. Well, 12th Man, you know what you need to do.
Next home game is Week 6 against Dallas. Are the Cowboys better than everyone thought? The looked surprisingly good against the Saints, but I think Seattle is on another level.
Just wait for Tony Romo to start Romoing the ball all over the place and the crowd will eat him up.
4 - Sorry about Kirk Cousins
If terrible teams won't stay terrible, why must players follow up a good game with a horrible one? Five turnovers? Washington needs to change the turf because Kirk Cousins just pooped all over it.
Hindsight would say don't trust a young quarterback until he's done it a few times. But that's just throwing darts over your shoulder. Good running back. Good receivers. 1-2 opponent who's only beaten the Texans. Something better should have happened.
Probably no one took it on the chin more than me. I'd have started him 4 times, but I could only get him in 3 leagues. I lost 3 times. The league with Ryan Tannehill I won. Tannehill 4 times would have equaled 3-1 instead of 1-3.
Cousins was dropped 107,000 times by this morning on Yahoo. When I went to double-check than number, it was over 109,000.
But South Park's "Go Fund Yourself"? Brilliant.
5 - Don't Forget KR Yardage.
Bethanie's league has some scoring that is weird to me. I don't mind it as long as I foresee the consequences and turn it into an advantage. 1 point per completion. 2 per catch. .5 per carry. I went QB-WR-WR-WR in the draft. It's been working out so far.
What I didn't adjust for is kick and punt return yardage. Late in the draft, when deciding between two guys, take the one who'll get you special teams points.
Looking at pickups early this week, I realize Jordan Todman, with 3 touches, is the #3 overall running back in the league. 3.6 points behind Jamaal Charles, who score 3 touchdowns. Todman was the #25 player in the league. Why?
174 return yards. No scores, but a lot of yardage. When your team gives up 33 points, you receive a lot of kickoffs. 6 kick returns and no punt returns for Todman. What ever happened to touchbacks?
How can we use this information? What do you get when you cross and elephant and a rhino? If you are in a KR yardage league and are considering starting Devin Hester, CJ Spiller, Andre Roberts or Cordarrelle Patterson, realize they could give you a special teams bump.
6 - Ain't Never Caught a Rabbit, but He Caught a Deer
I try to take my dog out to play frisbee daily. Oli's 60 pounds of Muttsky who needs to burn off energy. That's right: Muttsky. Part mutt, part husky. Love that dog.
Even better than chasing the frisbee is chasing deer. Often we go out after dark and we'll encounter deer nibbling grass at a nearby field. Oli will chase after if before it hops a fence and disappears. My dog's fast and agile, but he's not catching a deer, I always thought.
Last night he chased after one that hopped a fence. He ran through the gate and continued pursuit. I could not see them anymore buy I could hear them. The deer tried to clear another fence. I hear the chain-link rattle. Then I heard the sound a few more times. It must have been too tired to get over the 4 foot fence.
Then I heard a loud "pong" and nothing else but barking. I crossed the field to find my dog sniffing a twitching fawn. I ordered him to get away and sit. It appears that the fleeing deer had run headfirst into a fencepost, picnic table or the bleachers. Blood was coming from its mouth and it had marks across its skull.
After a minute or two it was still.
7 - Oh yeah, Fantasy Football
Jerick McKinnon will be a quality part of the Vikings attack. He and Matt Asiata make a good lightning-thunder pair. Someone should have both those guys.
Heath Miller is healthy again and Ben trusts him. He keeps getting his hands on the ball. More than I can say for Delanie Walker, who I dropped. Tough call there, but I trust the Titans offense less.
Atlanta's finally treating Devin Hester like a dangerous offensive weapon. Chicago never got the hang of it. Combined with his potential for special teams scores, he's worth a spot especially in my KR yardage league.
If the Teddy show does go big in Minnesota, Jarius Wright will be a big part of it.
8 - Something About a Free Cigar
I bought a bundle of 5 Vegas and a sampler for my approaching birthday. I opened the package and found 5 count Herf-a-dor in it also. I already have one. It's a handy travel case. I put my phone and keys in it when I go fishing because it's water tight and crush-proof.
It wasn't on my invoice. Must have been a happy mistake. It was heavier than I expected. I opened it to find a Xikar lighter and 5 CAOs.
This stuff never happens to me. The errors always go the other way.
I don't normally gravitate to CAO cigars. I've had a couple. CAO's are always unique and perhaps that's the problem. Every cigar is trying to be something, like the Flathead or the Concert. And I usually don't trust a brand that spends time with flavored or infused cigars.
I do dig the Mx2, however, just not everyday. It's distinctly a black pepper flavor. One of the only cigars I'd smoke while eating a steak.
Anyway, the America was a happy accident. A nice broad size with a very even burn. A rich, leathery maduro taste I liked a lot. Very smooth right down to the fingers. I'm very glad to have them.
Happens to have a very cool double wrapper: a natural inside a maduro in a pinstripe style. A thin ribbon of the lighter wrapper spirals around the cigar.
9 - Two-Headed Monster Report
After LeSean McCoy and Darren Sproles both went off in Week 2, they both disappeared. McCoy is too good to stay gone, but I think Sproles will be too streaky to play barring injury to the first guy. But, like Mariah Carey, I can't let go.
Jamaal Charles and Knile Davis threw a nasty one-two combination at New England this week. I want to see Alex Smith have another huge day with that offense before I become a believer. This team faded last year. Davis, unlike Sproles, is a legitimate power runner and goal line back. Play him if you're in real need.
In New York, Chris Ivory is looking powerful and fast while Chris Johnson is just looking tentative. I like Ivory to start anywhere, anytime. I like watching old CJ2K highlights.
10 - Your Haiku
From Who's That, Who's Him. AD
Good luck and happy creepings.